"Fit-out" refers to the process of making an interior space ready for occupation. As a common practice, when constructing commercial buildings, the spaces inside are left bare for the occupants to determine the level of refurbishment needed (or fitting out).
Ideally, fit-outs allow the business to plan and create how the establishment will look like.
In building preparation, fit-out refers to activities such as the installation of floors, ceilings, partitions, and furnishings. Additionally, building services such as cabling, wiring, internet connectivity, and communication arrangements may also fall under the fitting out process.
The fit-out term refers to activities that need to happen to make an interior space suitable for commercial occupation.
Generally, the occupant will be leasing space as a tenant from the developer or landlord. This term is commonly used for office developments where fit-out construction is performed by a tenant's own contractor, as opposed to the landlord's construction company; the developer completes the base construction and then the 'final' fit-out by the occupant.
The goal of fit-out is to ensure proper planning to execute and deliver projects in as short of a time as possible. The term includes the process of providing the necessary equipment for buildings, like interiors, decorations, and fittings.
A contractor working for a commercial space landlord will typically develop the first stage of a building's fit-out, a shell – the installation of the basic structure of the building. The "white box" or "shell" is for a new building, as well as for adapting a previous tenant space to make it ready for new tenants to look at and be ready to sign a lease.
From the outside, the building now looks complete, while inside, there is a blank space with endless fit-out possibilities, which are completed by design and build partners before the building can be occupied.
The shell construction is the concrete and metal frame of a weather-proof space, and it typically involves:
Base flooring
Standard white walls
Standard ceilings
HVAC
Plumbing
Restrooms
Elevator and stairs for evacuation
Adaptations to local building codes and constrictions
Tenants bring their own interior contractor for fit-out and their own interior architect, who would plan the exact locations of walls and interior separations, door spaces and other important aspects of the overall space arrangements.
The next stage of the fit-out is known as Cat A – bringing the rentable space up to a standard ready for occupation.
The interior architect, tenant, fit-out contractor, landlord, building engineer and local code reviewers all contribute greatly to the process of getting the tenant space 100% move-in ready – activities typically referred to as TIs or tenant improvements for the fit-out construction process.
The tenant(s) will arrange for their own chosen fit-out contractor to come in, and then the next stage can begin – Cat B, which is more focused on partitioning, flooring, decorating and similar works.
For the project to run smoothly from its planning until the finishing touch, take a look at this breakdown of the step-by-step procedure to further guide you in working with a good fit-out company.
Not only might tenants have their own interior contractor for a fit-out, but they might have their interior architect as well. Interior architects are similar to interior designers, except they may plan the exact locations of walls and interior separations, door spaces and other contributing factors to the overall space arrangements.
This contributing personnel to the overall process can be helpful to get the tenant space 100% move-in ready, including final fixtures, wall colours and shelving, etc. These activities are typically referred to as TIs or tenant improvements for the fit-out construction process.
Of course, there is more personnel involved than just the interior architect, tenant and fit-out contractor; the landlord and building engineer and local code reviewers should be involved as well. The tenant's agreement may help the cost for the fit-out construction with the landlord, but for complete finishing, some costs will depend on the tenant. Custom finishing costs in the fit-out TIs may include:
Lighting fixtures
Custom plumbing fixtures
Specialised flooring
Walls customisation
Custom or extra doors
Customised windows or fixtures
Shelving
Customised ceilings
Once all of these things are correctly implemented, the jobs of the interior architect and fit-out contractor are completed, and the tenant can move into the landlord's space.
Pre-Construction Activities
Tasks involved in the pre-construction stage serve as the foundation of a successful construction project. The primary aim of this stage is to provide a reliable, complete, and accurate source of information for both the establishment owner and the service provider. Such information gives way for the project team to make precise decisions on schedule, cost, and quality of the services.
Site Inspection, Interior Design, and Space Plans
To understand the limitations of the project, these procedures in pre-construction will help in carrying out realistic schedules, costing, and planned structures of the property. These procedures include site monitoring, waste management, review of existing facilities and site components, and study of building guidelines. This is to ensure that the project will be potentially safe and will be a successful vision before any work starts.
Here, design and space planning will also take place. As the design catches people's attention most, pay attention to its development as it's one of the greatest opportunities to influence and please the occupants of the establishment. Spaces should be properly divided and arranged for functional elements.
Design coordination meetings together with consultants are done in this phase, with experts studying and evaluating the plan's feasibility on the project. There is also optimisation of time and budget along the process as more specifications are made through these meetings.
Budget, Permits, and License
To prevent loss of money, overpaying, cost overruns, and failing to complete the project, both the project team and the clients should carefully consider estimating the possible fit-out construction cost.
These calculations are used to determine the project scope and feasibility within the available budget. Contractors also use them as bases when deciding to bid on the project. Commissioning, determining requirements, design team formation, design, bidding, and contract signing are some of the processes included in these activities.
To proceed with the construction process, mandatory permits and licenses are also needed. The requirements usually include building licenses, plumbing, electrical, water usage, fire management, safety permits and many more.
Construction Activities
This is the stage in construction where the actual work will take place. A detailed program provided by the contractor is needed as it contains all time-frames for each process, as well as the approvals.
Meetings, Monitoring, and Actual Work
Regular meetings can also be conducted to ensure clear communication among all parties regarding the condition of the construction process. Site progress, and design perspective issues, including health, safety, and other concerns, will be discussed during these meet-ups to make sure that everything is going well. 
The works of fit-out contractors in this phase include electrical, mechanical, cabling, plumbing, and drainage, as well as sanitary and fire safety services. While the construction is in progress, appointed staff will engage in frequent monitoring to ensure the project will reach completion on time. 
Post-Construction Activities
Finally, the last step of fit-out construction is known as handover or practical completion. This only means that the space is available and ready to be used by the occupants. Aside from the finishing touches, there must be a final inspection to settle the overall look and condition of the constructed project.
The fit-out company, along with the appointed project manager or coordinator, shall provide minimal but sufficient information about the project, such as signed and sealed as-built drawings, snagging issues (if any), final payment fixes, warranty reviews, and operating manuals to provide instructions for the client. Occupancy permits, all testing and commissioning reports, final electrical inspection, and fire safety inspection certificates must be submitted both by the lessee and his contractor. 
Settlement of Payments
There are final fixes on the payment processes, including charges on any changes made during construction, utility charges, administrative fees, and all other unpaid accounts that should be settled as soon as construction is complete and before its utilisation schedule.
Things to Consider Before You Start a Fit-Out Project
Commercial fitting out requires a lot of planning and preparation. Before starting any project, consider the following important factors:
Comprehensive Price Estimate
Before conducting a commercial office fit-out project, confirm that the initial quote received from the interior design company is comprehensive and eliminates any additional expenses. Take time to review the quote, making sure it covers the following:
Design briefs
Technical plans
Building assessment
Project management
Material delivery
Construction
With a comprehensive quote, the company can budget for the whole project effectively and never fall victim to sudden increases in the final costs.
A Design That Matches the Branding
The new office design should match the brand colours, appearance, culture, values, and vision of the company. It should be an extension of other marketing and advertising materials. That way, the clients get the same impression when they walk into the office, read the brochures, browse the company's website, or visit its social media pages.
The Efficiency of the Service System Designs
Design the fit-out in a way that different systems within the workplace operate efficiently to match the staffs' needs (including reliable AC system for optimal office temperature, adequate lighting system, enough sockets, and so on).
Here are some systems to consider before finalising the layout with the designer:
The type of data cabling required
Lighting and lux levels
Position of power outlets and switches
Number of data points required
Number of power outlets required
Air conditioning units
Air conditioning to server rooms and server racks
Ventilation, the position of mechanical registers, and return air grills
Talk to the employees to ensure you have all the crucial information about the commercial space.
Migrate it and Telecoms
Communication necessities such as the internet and telephone can greatly get disrupted when moving from one workplace to another. Depending on the business, any slight communication disruption may result in inconveniencing or losing several clients.
This can be avoided by hiring a reliable fit-out specialist to create a solid migration plan for the communication system. A seamless migration process ensures that clients can email, text, or call even when the business is moving into new offices.
Legal Compliance of the New Space
The new design has to comply with all government requirements, which cover areas such as:
Fire alarm and extinguishers
Safe electrical setups
Ample working space
Efficient and comfortable working environment
Health and hygiene
Compliance with the above lowers the risk of illnesses, injuries, and accidents to the employees. The company also avoids unnecessary lawsuits.
Built-In Opportunity to Expand the Space
Though not always possible, it's important to design an office that'll allow more equipment and furniture to accommodate more clients as the business expands in the future. With room for expansion, the business avoids the need to relocate, saving more money.
Construction: Hard Fit-Out
Assuming you're new to the world of office fit-out, 'fit-out' is a term that describes the development of interior space from beginning to end, in order to make it suitable for occupation by a business. A hard fit-out is a process of altering or refurbishing the base building that will play host to the designed space. It could be useful to think of it as the construction of the framework that office space will inhabit, as it could include anything from reflooring to knocking out unnecessary or unwanted walls to electrical work.
The best interior design firms should commonly offer a range of services that include such specialised labour. This makes it easy for the consumer – they are able to partner with a design team that will handle their whole office fit-out from beginning to end, with a consistent level of quality and agile workspace strategy.
Most things that fall under the scope of a hard fit-out follow a common logic: wall treatments, painting, window glazing, etc. Other elements are worth considering that you might not initially expect to fall under construction. These include landscaping, phone installation, and installation of air conditioning (HVAC) systems. It makes sense that a hard fit-out covers these too, but they're probably not your first thought when it comes to construction work.
Furnishing: Soft Fit-Out
Once the groundwork is done, it's time to look into furnishings, and that's where a soft fit-out comes in. Having the ideal floorplan is one thing, making it a comfortable, stylish place for your team and your clients is another. Filling your office space with furniture is an opportunity to express the character of your brand and reflect your business' culture through aesthetics. A high-quality soft fit-out can make a substantial difference in the message space sends and how inviting it can be.
Just as a hard fit-out covers more than just basic construction work, a soft fit-out goes beyond office chairs and boardroom tables – depending on your needs, it could include breakout area couches, reception area furniture, artwork, and more.
Furnishing is also a great opportunity to make your space ergonomic and health-conscious – utilising creative standing spaces or adjustable workstations can go a long way for the physical health and comfort of your staff.
Fit-Out Mistakes You Should Avoid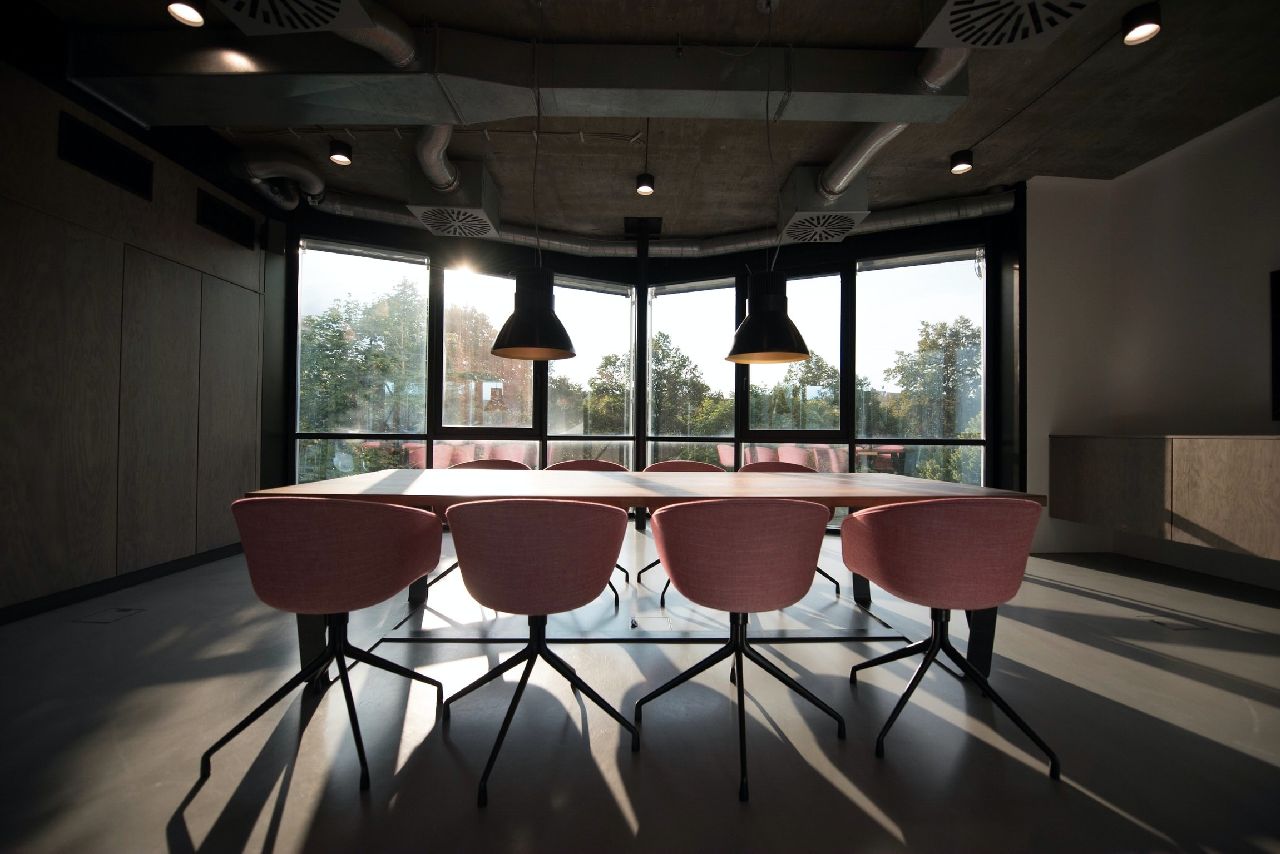 Fitting out requires a lot of patience and attention to detail. The following are some of the fit-out mistakes that many businesses make:
Rushing Through Planning
Skipping or rushing through the planning stage will result in a poorly done fit-out which is a waste of money and time. It'll be prone to structural setbacks and the need for regular refurbishment.
Get a fit-out expert to do the planning for the best results. They'll make use of the limited space and stretch the budget without compromising on the quality.
Dysfunctional Layout Design
Work with a layout plan that incorporates both the present and future plans of the business.
Envision the office, not from an individual point of view but that of the employees and visitors. Think of the needs of your business and create a presentable outlook and a pleasant working environment.
Aim at creating a dynamic, professional, and functional space by attending to every aspect of the office's needs. Besides the working area, don't forget about the space and access to the conference room, reception, and break room.
Inappropriate Budgeting
Creating a comprehensive budget is a priority for businesses seeking to improve their fit-out.
Determine your financial blueprint and work within its limits. The aim is to achieve a cost-efficient fit-out that makes provisions for unexpected changes in price and other factors. Get a fit-out expert to help you with budgeting.
Failing to Consider Future Business Plans
Ensure the fit-out design can accommodate future expansion needs. Instead of permanent wall fixtures, business owners could consider contemporary designs for their offices.
Additionally, share the long-term corporate plans with the fit-out expert and ensure they incorporate it into their designs.
Replicating Other Office Designs
Getting inspiration from other fit-out designs is fine. However, replicating it may not bring out the same aura, especially if the businesses are in different sectors.
Incorporate the company's core values, goals, and achievements into the fit-out design to stand out from the competition.
Assuming the Landlord
Not being fully acquainted with the landlord's regulations and restrictions could negatively impact the project costs and duration. Restrictions such as operating during specific working hours could significantly affect the project's progress.
Before starting the fit-out project, discuss the designs and other project details with the landlord or their representative. Make sure there's an agreement on how the project will be conducted.
Inadequate Lighting and Airflow
Staying in a poorly lit room with insufficient ventilation could negatively affect a person's health. Consequently, exposing employees to poorly lit rooms with inadequate airflow hinders their productivity and performance.
A good fit-out design should incorporate the use of large windows to allow sufficient airflow and natural light. Additionally, the fit-out expert should be able to advise on other environmentally friendly designs for the office. This will help attract clients and save energy.
Not Consulting Employees
Since employees spend most of their time in the office, it's vital to keep them in mind when coming up with the fit-out design. Consult them on what to include and what to prioritise in the design.
A fit-out can make or break a business. It ensures that systems are working efficiently, employees are productive, and customers enjoy the ambience on the business premises.
This is not a simple renovation – it's the image the business portrays to the public. As a result, be sure to set aside a reasonable budget for this project for the best results.
Summary
Fit-out is a term used in the construction industry to describe the process of developing and furnishing the interior of a building to make it suitable for occupation. It involves converting a raw, unfinished interior space into a functional, comfortable environment that meets the specific needs of the intended occupants.
This process can involve a wide range of activities, depending on the state of the building and the specific requirements of the occupants. Here are some of the typical components of a fit-out:
Interior Design: Develop a design plan for the space that aligns with the occupant's brand, aesthetic preferences, and functional needs.
Partitioning: Creating distinct areas or rooms within the space, such as offices, meeting rooms, break rooms, etc.
Installation of Services: Setting up essential services like electrical wiring, plumbing, heating, ventilation, air conditioning (HVAC), and IT infrastructure.
Furnishing and Decoration: Choosing and installing items such as furniture, flooring, window treatments, light fixtures, and decorative elements.
Compliance with Building Regulations: Ensuring that all work complies with local building codes and regulations, particularly in terms of safety and accessibility.
Fit-outs are typically categorized into three broad types:
Shell and Core: This involves the basic construction of the building, including the structure and facade, main utility connections, and common areas like lobbies and restrooms.
Category A (Cat A) Fit-Out: This is a basic fit-out that includes elements like raised floors, suspended ceilings, basic electrical and mechanical services, and fire safety systems. The space is left as a blank canvas for the tenant to customize.
Category B (Cat B) Fit-Out: This involves the full customization of the space to meet the tenant's specific requirements, including partition walls, office layout, final finishes, kitchen and breakout areas
A fit-out refers to the process of developing the interior of a building to make it suitable for occupation. It involves transforming raw, unfurnished space into a functional area that meets the specific needs and preferences of the intended occupants. Fit-outs typically include activities like interior design planning, partitioning, installation of services, furnishing, decoration, and ensuring compliance with building regulations.